PROGRAM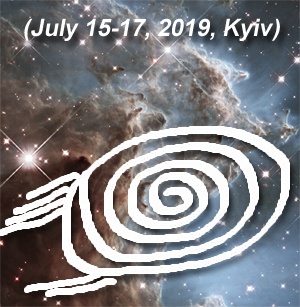 International Scientific Conference
«Astronomy in Ukraine: from archaeoastronomy to high-energy astrophysics»
dedicated to the 75th anniversary of Main Astronomical Observatory of the National Academy of Sciences of Ukraine
(July 15-17, 2019, Kyiv)
PROGRAM OF THE CONFERENCE
July 15, 2019
| | |
| --- | --- |
| 10:00 - 14:00 | Open Door Day, excursions, observational master-classes, video demonstration. |
| 14:00 – 17:00 | Registration of participants. Meetings in the Scientific Departments of the Observatory |
July 16, 2019
9:00-10:00
Registration of participants
10:00 -11:30
Opening of the conference. The first plenary session.
10:00 – 10:20
Andrievskii Sergiy - Stellar and galactic astronomy in Odesa
10:20 – 10:40
Ulyanov Oleg Mykhailovych - Fifty years of study of pulsars in Ukraine. From Kharkiv to Zolochiv
10:40 – 11:00
John H. SEIRADAKIS - The Antikythera Mechanism: Decoding an astonishing 2000 years old astronomical computer
11:00 – 11:10
Kazantseva Lilia - Photographic astronomy at the Kiev University over 100 years: from the installing of the first astrograph to the processing of digitized images.
11:10 – 11:20
Korsun Alla - Against hard times in history. Personalities who survived (report on O.Ya.Orlova and M.Stoiko-Radilenko)
11:20 – 11:30
Medvedsky Mykhailo - Laser location of satellites in the MAO NAS of Ukraine. The path from the first observations to the present
11:30 – 12:00
Tea and coffee break
12:00 – 13:30
The second plenary session
12:00 – 12:15
Osipov Sergiy - S.N. Osipov, R.I. Kostik, N.G. Shchukina. Kyiv monitoring program of Fraunhofer lines variation with 11-year cycle of solar activity
12:15 – 12:30
 Dlugach Zhanna - Dlugach Zhanna, Mishchenko Michael. Numerical simulation of electromagnetic scattering by a discrete random environment
12:30 – 12:45
Kostik Roman - Possible mechanism of solar flares glow: observation and modeling
12:45 – 13:00
Lozitsky Vsevolod - Lozitsky V.G., Baranovsky E.O., Lozitskaya N.Y., Tarashchuk V.P. Magnetic Fields and Thermodynamic Parameters in the Seismic Source of a Powerful Proton Solar Flash
13:00 – 13:15
David Mkrtichian - The Acoustic Tomography of Atmospheres of roAp Stars
13:30 – 15:00
Dinner break.
15:00 – 17:00
Section session.

 

Near Earth Astronomy and Solar Physics


(ground floor, large conference hall)
Head of the Section - Natalia Shchukina

15:00 – 15:15
Kazantsev Anatoly - Non-gravitational effect, the origin of the Trojans of the planets and comets of the family of Jupiter.
15:15 – 15:30
Pishkalo Mykola - Changing the polarity of the polar magnetic field of the Sun in 21-24 cycles of activity
15:30 – 15:45
Kriuchkovsky Vitaly - Kriuchkovsky V., Bushuiev F., Kaliuzhny F., Kulichenko M., Khalaley M., Shulga O. External comparison of the orbital positions of low-orbital satellites obtained by the Doppler station of the SRI «MAO»
15:45 – 16:00
Kulichenko Mykola - Distribution of meteoroid orbits according to television observations
16:00 – 16:15
Troiansky Volodymyr - Analysis of rotation periods of V-types asteroids outside the Vesta family
16:15 – 16:30
Kalinichenko Mykola - Kalinichenko M.M., Konovalenko O.O., Kugay N.V., Romanchuk O.I., Bubnov I.M., Yerin S.M., Brazhenko A.I., Ivantyshyn O.L., Lytvynenko O.O. Monitoring of solar wind by observing interplanetary flicker of space radio sources
16:30 – 16:45
Chornogor Svitlana - N.M. Kondrashova, M.M. Pasechnik, C.M.Chornogor. Spectropolarimetric study of active solar processes
16:45 – 17:00
Stodilka Myroslav - Models of photospheric jets of the calm atmosphere of the Sun

 

Physics of stars and galaxies


( second floor, small conference hall)
Head of the Section - Peter Berczik

15:00 – 15:15
Zakharenko Vyacheslav - Transient signals in decameter range
15:15 – 15:30
Zhdanov Valery - B. Hnatyk, V. Zhdanov. High-energy phenomena and active processes in relativistic astrophysical objects.
15:30 – 15:45
Plachinda Sergiy - Single Line method of stellar magnetic field measurement
15:45 – 16:00
Dobrycheva Daria - Machine learning methods for binary morphological classification of the SDSS galaxies
16:00 – 16:30
Krzysztof Belczynski - The origin of low effective spins in LIGO/Virgo binary black hole mergers
16:30 – 16:45
Raphaël  Neymann  -  Analysis  of  the  intrinsic  properties  of star clusters after virialisation.

 

Prospects for astronomical research progress


(first floor, office.216)
Head of the Section - Yaroslav Yatskiv

15:00 – 15:15
Stanislavsky Oleksandr - Prospects for solar observations at very low frequencies on the reverse side of the Moon
15:15 – 15:30
Yerin Sergiy - Characteristics and possibilities of radioastronomical observations with the GURT Radio Telescope Subarray
15:30 – 15:45
Romanyuk Yaroslav - Shulga O.V., Kriuchkovsky V.F., Romaniuk Ya.O., Koshkin M.I., Shakun L.S., Yepishev O.P., Kudak V.I., Vovchyk Ye.B., Martyniuk-Lototskiy K.A. Monitoring of the orbital coordinates of artificial space objects with Ukrainian Network of Optical Stations.
15:45 – 16:00
N. Kiselev - D. Shakhovskoj, V. Dolgopol, K. Antoniuk, V. Rosenbush, Yu. Ivanov, N. Karpov, V. Taradiy, S. Kolesnikov. New two-channel photoelectric polarimeters: design and results of the first observations
16:00 – 16:15
V.K. Taradiy - Taradiy V.K., Seregeev O.V., Karpov M.V., Godunova V.G.,  Butenko  G.Z., Andreyev M.V., Kozlov V.A., Martynyuk-Lototsky K.P. Astronomy in Elbrus region.
17:00 – 18:00
Free time. Cultural and sporting events.
18:00 – 20:00
Friendly party.
July 17, 2019
10:00 - 11:30
The third plenary session.
10:00 – 10:15
Zeki EKER - Detached binaries as a tool to test gaia and hipparcos parallaxes
10:15 – 10:30
Saleem Zaroubi - Title 21 cm Cosmology and the Epoch of Reionization
10:30 – 10:45
Ludmilla Kolokolova - Planetary Science in Big Data Era
10:45 – 11:00
Krzysztof Belczynski - Astrophysics with LIGO/Virgo Detections
11:00 – 11:15
J.H.Seiradakis -  "The Educational Astronomical Park at Mt. Orliakas, Greece"
11:30 – 12:00
Tea and coffee break
12:00 – 14:00
Poster Session (ground floor, large conference hall).
Consultations and meetings in Scientific Departments of the Observatory.
 

Poster Session


(ground floor, large conference hall)
Head of the Section - Yakiv Pavlenko
Apunievich Sofia - S.Ye. Apunevych, S.V. Apunevych, K.P. Martynyuk-Lototskyy, Ya.T. Blagodyr, A.I. Bilinsky, E.B. Vovchyk, N.V. Virun.  Satellite laser ranging station "lviv-1831". Status report.
Vovchyk Eva - Ya. Blagodyr, A. Bilinsky, N. Virun, E. Vovchyk, K. Martynyuk-Lototskyy, S. Apunevych. The past, present and future of the Lviv EAS observation station
V. Butkovskaya, S. Plachinda - Magnetic field of a large-amplitude beta Cephei pulsator BW Vul, measured in spectral lines of different chemical elements
V. Butkovskaya, S. Plachinda - Magnetic field of the Ap Star 33 Lib: a study in different spectral lines
Kozak Pavlo - Abnormal meteors on the basis of foreign and own observations
Krushevska Viktoriia - New Delta Scuti variable.
Kuznyetsova Yuliana - Project of Searching for Extrasolar Planets Around White Dwarfs.
Lashko Mykhailo - Ukrainian-language popular science publications on astronomy, from the Valuiev's circular to Ukrainization of 1863-1933
Maigurova Nadia - Results of observations of asteroids approaching the Earth
Vira Godunova - V. Taradii, V. Godunova, O. Sergeev, V. Reshetnyk, A. Simon, M. Karpov, V. Kozlov, G. Butenko, I. Izviekova, I.Sokolov, Yu. Bufan, M. Andreev, S. Velichko. Observational research at the Terskol Observatory within the Gaia project
Volodymyr Reshetnyk - V.Reshetnyk, Yu. Skorov. Dynamical properties and acceleration of hierarchical dust particles near 67P/Churyumov-Gerasimenko
Efimenko V.M. - Short-term variations of the total area of group of spots in 12-24 cycles of solar activity
Protsiuk Yuri - Results of observations on the Axial Meridian Circle of the Nikolaev Observatory after the modernization
Nadiia Pulatova - The results of bright Seyfert 1 galaxies international monitoring program
Shevchenko Igor V. - Influence of Solar Energy on Self-organization of water molecules on Earth
Vavilova Iryna - Scientific astronomy schools at the MAO NAS of Ukraine
Vavilova Iryna - Artemenko T., Vavilova I. Archeoastronomy in Ukraine   
Vavilova Iryna - I.B. Vavilova, S.V. Shatokhina, O.M. Yizhakevych, L.V. Kazantseva, Yu.I. Protsyuk, L.K. Pakuliak, I. Eglitis, H. Relke, Q.X. Yuldoshev, A.Sh. Mullo-Abdolov, V.M. Andruk. On the "Solar system small bodies" astroplate project of the Ukrainian Virtual Observatory
Vavilova Iryna - I.B. Vavilova, V.M. Andruk, L.K. Pakuliak, I. Eglitis,   Q.X. Yuldoshev, A.Sh. Mullo-Abdolov, S.V. Shatokhina, O.M. Yizhakevych, Yu.I. Protsyuk, H. Relke, V.S. Akhmetov, M.M. Muminov,  Sh.A. Ehgamberdiev, G.I. Kokhirova. On the FON astroplate project accomplishment
Anatolii Skorbun - Analysis of gamma background long time measurements in Chornobyl exclusion zone
| | |
| --- | --- |
| 14:00 – 16:00 | The Joint Meeting of the Scientific Council of the Observatory and the Department of Physics and Astronomy of the National Academy of Sciences of Ukraine, dedicated to the 75th anniversary of the Observatory. |
| 14:00 — 14:15 | Loktev V.M. - Opening of the session |
| 14:15 — 14:30 | Yatskiv Ya.S.  - Some facts from the history of the Observatory |
| 14:30 — 14:45 | Vavilova Irina - Vavilova I.B., Kravchuk S.G., Kryachko I.P. New directions of scientific research in MAO NAS of Ukraine |
| 14:45 — 15:00 | Konovalenko Oleksandr - New horizons of domestic and global low-frequency radioastronomy. |
| 15:00 — 15:15 | Shchukina Nataliia - The small-scale magnetic activity of the quiet Sun |
| 15:15 — 15:30 | Pavlenko Yakiv V. - Activity processes in the Proxima Cen atmosphere. |
| 15:30 — 15:45 | Berczik Peter - Galaxy collision simulations with central Post Newtonian Binary Black Hole. |
| 15:45 — 16:00 | Milinevskyi Gennadii  - Yaroslav Yatskiv, Ivan Syniavskyi, Gennadii Milinevskyi, Andrii Bovchaliuk, Oleksandr Degtyaryov, Mikhail Sosonkin, Michael Mishchenko, Vassyl Danylevsky, Yury Ivanov, Yevgeny Oberemok, Volodymyr Masley, Vera Rosenbush, Ivan Kolomiets, Ihor Fesianov and Sergii Moskalev. Space project Aerosol-UA for atmosphere aerosol study: state-of-art and prospects |
| 16:00 – 18:00 | Reception |